Join us
With a transparent and scientific-based approach, RecyClass
guides companies towards plastics circularity.
Be the frontrunner of a new plastics economy – join RecyClass!
RecyClass brings together players from the entire plastics value chain, to strengthen the two pillars of the initiative – plastic packaging recyclability & recycled plastic content.
Join as member
RecyClass membership is open to companies actively looking to improve the circularity of their products and to contribute towards harmonisation of recyclability & recycled content practices across Europe.
Benefits of the RecyClass Membership vary depending on the membership level and include:
Benefits

ACCESS TO PREMIUM RECYCLASS ONLINE TOOL
(reserved only for members for self-assessment of
recyclability class and rate)

CERTIFICATIONS
Official reyclability and/or recycled plastics traceability
certification by a third-party certification body

TECHNOLOGY & PRODUCT APPROVAL
Assessed by the Recyclass Technical committee

TRAINING PROGRAMS
Customized one-day training course in your company

RECYCLING POLICY REPORT
Support and development of individual company
Recycling Policy Reports


BEING AT THE CENTER OF DEBATE
on plastics recyclability & recycled content

PARTICIPATION TO THE RECYCLASS ADVISORY
BOARD
AND TECHNICAL COMMITTEES
(reserved for Platinum Members)

SUPPORT FROM THE RECYCLASS TEAM
on recyclability & recycled content related matters

BRAND EXPOSURE
Company logo displayed on a dedicated section
of the Recyclass website
How to apply?
Fill in the application form and return it to info@recyclass.eu.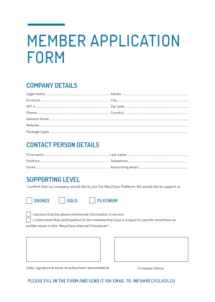 More information
More information offered can be found in the Membership Brochure.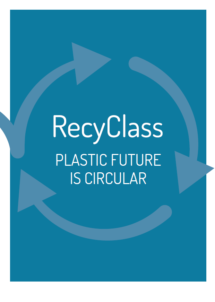 Join as supporter
---
RecyClass welcomes organisations interested in actively supporting and implementing the work done by RecyClass. Supporters can join Technical Committees and Advisory Board meetings as guests to offer advice according to the respective area of expertise.
How to apply?
Fill in the application form and return it to info@recyclass.eu.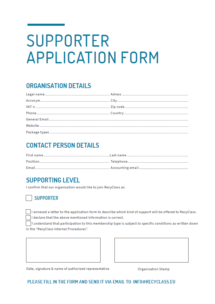 Supporter Application Form
Eligibility criteria
Eligibility criteria for joining RecyClass can be found in the RecyClass Internal Procedures.