NextCycle In-Mould-Label developed by MCC Verstraete approved by RecyClass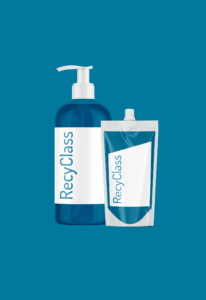 MCC Verstraete's 'NextCycle In-Mould Label' is fully compatible with the European rigid polypropylene (PP) recycling stream. Both its sorting behaviour and recycling compatibility were positively assessed by independent testing facilities. The results show that the recycled material produced from packaging containing the NextCycle IML technology can be used back in high-end, or even closed-loop applications.
The NextCycle IML consists of a fully printed (with non-bleeding inks) PP label wrapped-around a PP tub without the addition of adhesives. Unlike regular In-Mould-Labels (IML), 'NextCycle IML' are a new generation of IML that can get separated from the containers first at the grinding and then at the air elutriation stages – where separated label flakes are removed from the container flakes and sent to the flexible plastic streams. As a result, the contamination of the PP rigid recycling stream with inks and other decorations is avoided. In particular, this technology enables to separate printed label flakes from natural PP container flakes.
The compatibility of the PP tub and NextCycle IML combination with recycling was evaluated at the Institut für Kunststofftechnologie und -recycling (IKTR), according to the RecyClass Recyclability Evaluation Protocol for PP Containers[1]. The tests demonstrated that more than 98% of the NextCycle IML was removed after grinding and air elutriation stages, enabling the plastic generated by the recycling process to be used back in closed-loop applications, such as PP injection moulding with up to 50% of this material.
Additionally, the analysis of the sorting behaviour carried out by the National Test Centre Circular Plastics (NTCP) according to the RecyClass Sorting Evaluation Protocol for Plastic Packaging[2], demonstrated that the fully printed NextCycle IML does not prevent the sorting behaviour of the PP tubs, which are correctly sorted within the PP rigid recycling stream with a 98% efficiency. The laboratory results show, that 'NextCycle In-Mould Label' conforms to the current European PP container recycling stream provided it is used under specific conditions[3], which among others, determine the label thickness, and surface coverage to confirm the full compatibility with the natural PP stream.
The technology approval for this new decorative technology destined for PP packaging is an alternative to regular In-Mould Labels which at the same time improves the separation of printed labels from unprinted containers. This technology is yet another example of how innovation and adapting manufacturing process in line with the recyclability principles contribute to improving plastic packaging's circularity.
[1] RecyClass Recyclability Evaluation Protocol for PP Containers
[2] RecyClass Sorting Evaluation Protocol for Plastic Packaging
[3] For the full conditions please read the technology approval letters
About RecyClass
RecyClass is a comprehensive cross-industry initiative that works to advance plastic packaging recyclability and to establish a harmonized approach towards recycled content calculation and its traceability in Europe. Activities within RecyClass include the development of Recyclability Evaluation Protocols and scientific testing methods for innovative materials which serve as the base for the Design for Recycling Guidelines and the Recycling Online Tool. RecyClass offers Recyclability Certifications for plastic packaging and Recycled Content Traceability Certification for plastic products.
Contact: Jean-Emile.Potaufeux@plasticsrecyclers.eu, www.recyclass.eu 
About MCC Verstraete, a Multi-Color Corporation Company
MCC Verstraete, a Multi-Color Corporation Company, has over 30 years of experience in offset-printing IML labels on polypropylene (PP) film for injection molding, blow molding and thermoforming packaging. In-depth understanding of materials, innovation and sustainability has made MCC Verstraete a world leader, producing over 60 million in mold labels every single day for numerous segments within the plastic packaging industry.
Contact: nico.van.de.walle@mcclabel.com, verstraete.mcclabel.com